Where can I fish for Atlantic Salmon in Ontario?
In all areas of the province, where an Atlantic Salmon catch limit of 1 exists for residents with a valid sport fishing licence, this counts towards the aggregate catch/possession limit of 5 for salmon/trout (see page 10 of the Ontario Fishing Regulations Summary). Residents with a valid conservation fishing licence may never retain Atlantic Salmon (with one exception in Fisheries Management Zone (FMZ) 11). Additionally, there is a provincial possession limit of one Atlantic Salmon, meaning that even if a licence holder is fishing in multiple Zones, they can only have one Atlantic Salmon in their possession (including storage; see page 13 of the Ontario Fishing Regulations Summary). Always make sure you understand and follow all the regulations in the Ontario Fishing Regulations Summary.
In all other FMZs, Atlantic Salmon are not present and are therefore closed to fishing all year.
Catch-and-Release of Atlantic Salmon
There are many great resources that help remind anglers about proper catch-and-release techniques (e.g., Keepemwet Fishing), and the science shows Atlantic Salmon do well when catch-and-release is properly practiced (e.g., see Lennox et al. 2017). The Atlantic Salmon Federation, in partnership with the Fédération québécoise pour le saumon atlantique and the Quebec Government, produced a catch-and-release video for Atlantic Salmon, which can be viewed here.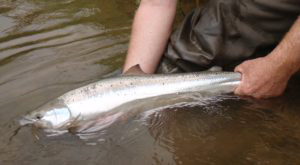 Photo credit: Credit River Angler's Association
Remember the basic rules:
Many salmonids do poorly when angled in water where the temperature exceeds 20°C.
Keep air exposure to <10 seconds and preferably <5 seconds.
Use wet hands to handle the fish.
Never touch the eyes or gills.
Always support the body when holding the fish.
Consumption of Atlantic Salmon
The following charts represents the maximum number of meals recommended per month. Please note that these consumption limits do not reflect fishing regulations. The sensitive population (*) refers to women of child-bearing age and children under 15.
Program Partners and Supporters
1-800-263-OFAH (6324) ext. 237
PO Box 2800
Peterborough, Ontario
K9J 8L5